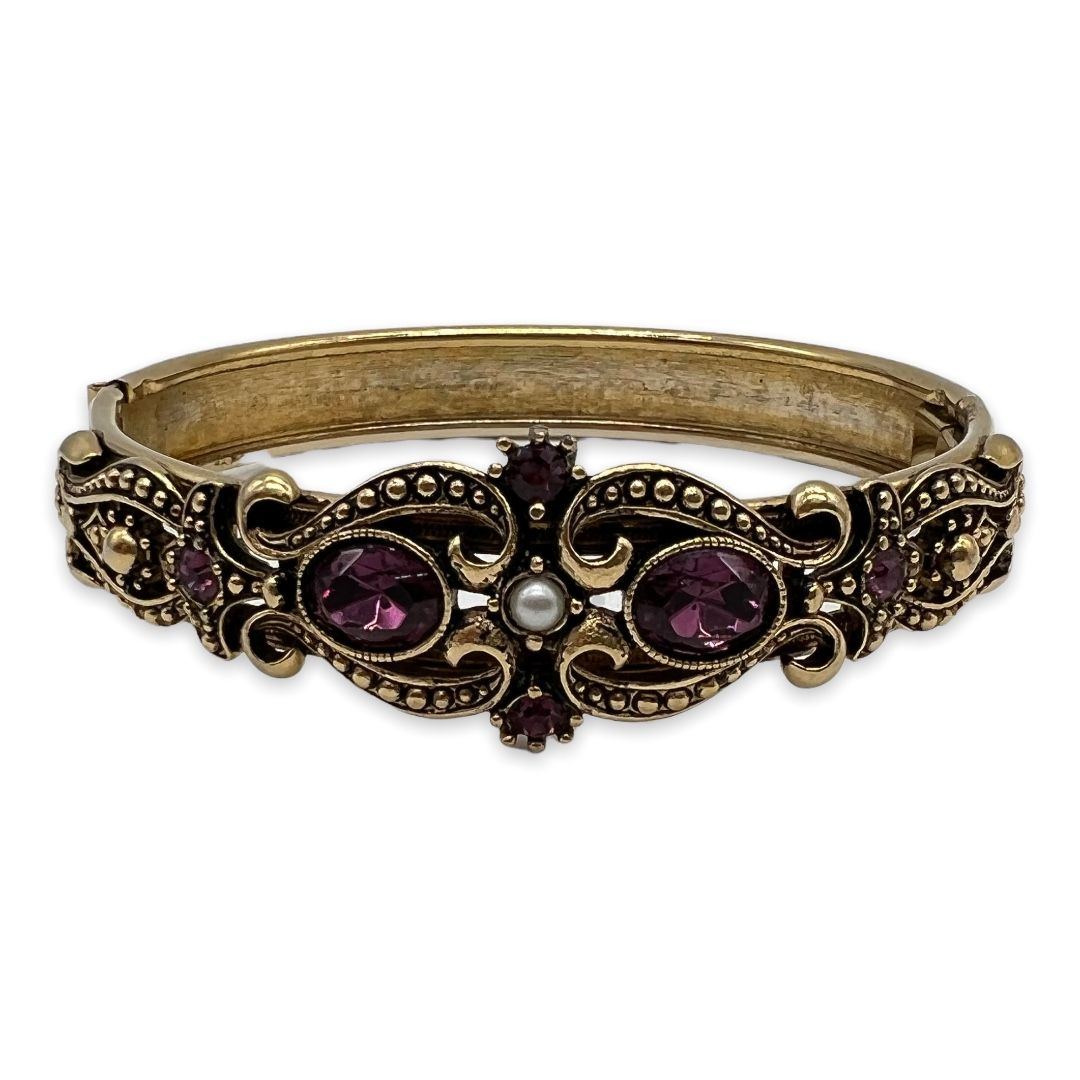 Avon 1974 Queensbury Victorian Revival Bracelet
August 29, 2022
Funky Multi-strand Artisan Glass Bead and Faux Pearl Necklace
September 3, 2022
Amethyst Rhinestone Pearl Pendant and Earrings Set
$129.00
This is a lovely vintage amethyst rhinestone  pearl pendant and earrings set. This set has an Austro-Hungarian inspired flavor to it, however, it has also been described as a set with Egyptian Revival elements. The piece has white, black, and turquoise enameling on gold-tone metal flanked by emerald-cut amethyst and clear color rhinestone, and glass faux pearls. The set has a splendid look to it that is sure to start conversations.
1 in stock
• SKU: US-NE-ER-2022-08-30 16.12.54-50-vjc-a-6
• Designer or Maker: Unknown
• Mark: None
• Style: Pendant and earring set
• Circa Date: 1950s
• Condition: Some tarnish to cobra chain and tarnish/wear to clip-back flippers.
• Age Group: Adult
• Color: Gold,
• Material: Brass, gold-tone plate, glass/crystal
• Size or Measurement: Approx. The cobra-style chain measures 16 1/4 t.l. Pendant measures 2″ in dia., earrings measure 1 1/8″ in diameter.
• Type: Enamel and rhinestone pendant set, Austro-Hungarian-style, Egyptian Revival style, 1950s necklace set.