Vintage CRC Faux Jade Screw back Earrings
September 29, 2022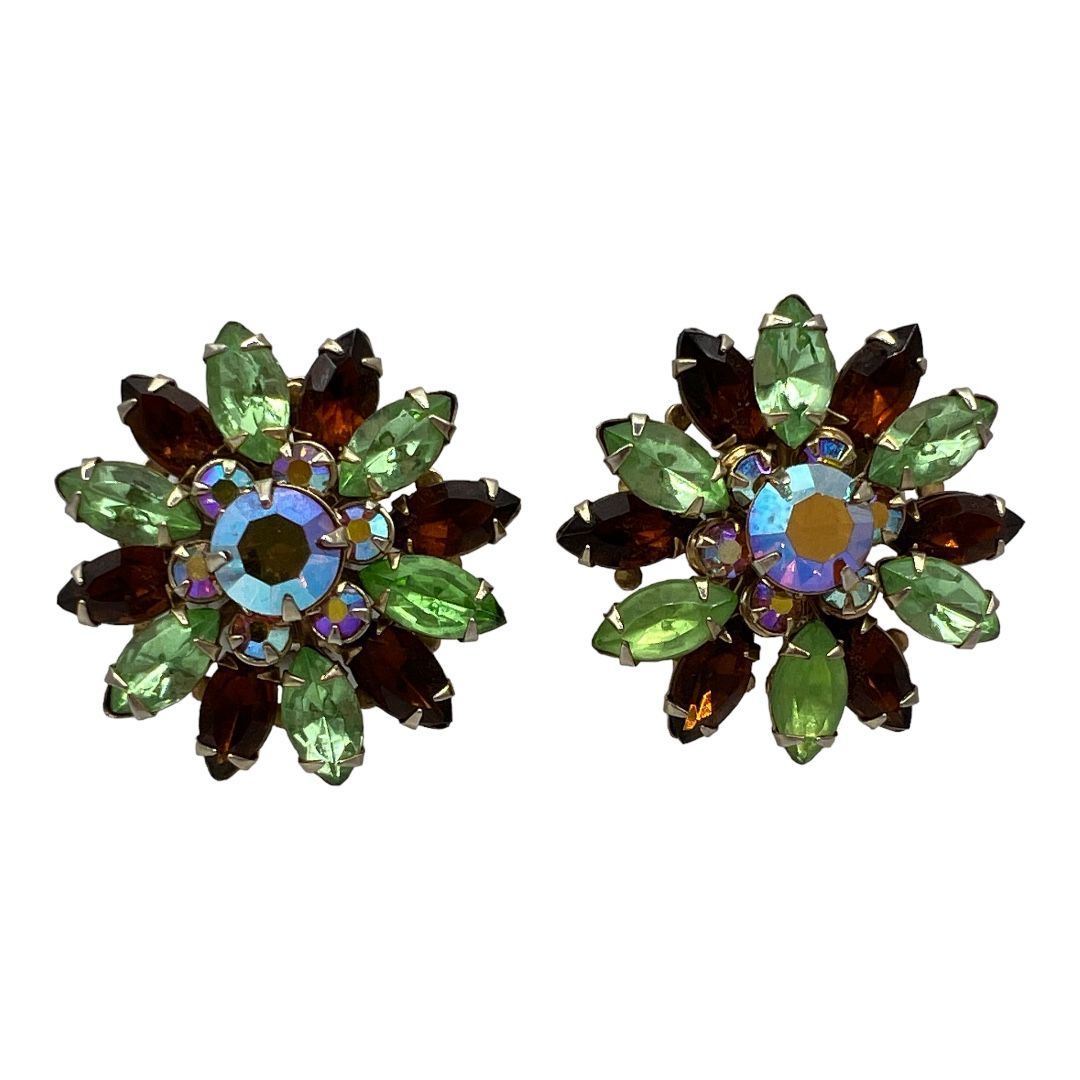 Vintage Green Purple Swedged Rhinestone Earrings
October 13, 2022
Fabulous Vintage Karu Arke Pink Flower Necklace and Earring Set
$89.00
This is a lovely mid-century vintage Karu Arke pink flower necklace and bracelet set. It's rather charming and would look fabulous with a 1950s frock. The necklace features pink flowers accented with circ. rhinestone surmounted on a gold-tone base with leaf detail.
1 in stock
• SKU: KA-NE-BR-2022-09-29 09.16.51-50-vjc-a-6
• Designer or Maker: KARU ARKE
• Mark: KARU ARKE
• Style: Collar necklace and flexible link bracelet
• Circa Date: 1950s
• Condition: Some of the glue on the flowers has yellowed, as well as some rhinestones have darkened. The yellowing be corrected if addressed by a professional jeweler. There is plating wear at the joints, which is common
with some of these pieces that seem to have a resin base. Most condition issues are not visible from the front. Price reduced to clearnace.
• Age Group: Adult
• Color: Gold, pink
• Material: White metal resin base, Brass, gold-tone plate, glass/crystal, hard resin.
• Size or Measurement: Approx. 17 7/16″ t.l. (sans end drop) x 1/2″ w. Bracelet measures 7 1/4″ t.l. x 1 1/8″ w.
• Type: Karu Arke jewelry, Karu Arke necklace and bracelet sets, Resin necklace and bracelet set, Pink flower necklace set.
Related Images: