Early BM Taxco Sombrero Men Brooch
January 17, 2022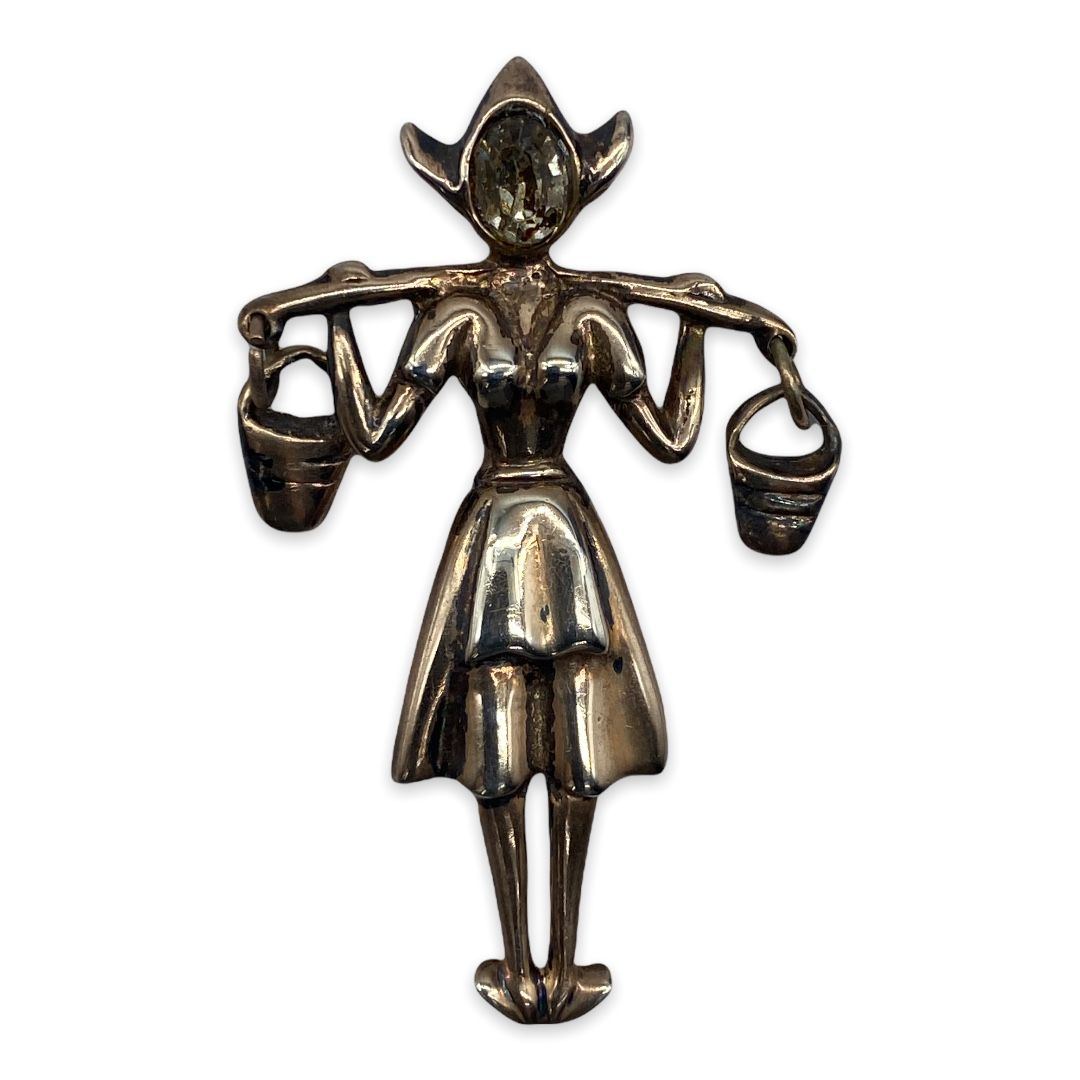 Vintage Sterling Norma Dutch Water Carrier Figural Pin
February 6, 2022
Norma Sterling Silver Figural Dancer Pin Set
$99.00
We are offering for your consideration a collection of 1940s Norma sterling silver figural pins. The Norma Jewelry Corporation was founded by Alfred B. Shawl. It is believed to have been in business from c. 1944 to at least 1950s as evidence by a WWD advertisement. This set features two female dancers facing opposite directions. The stylized faces are oval green glass cabochons. The patent design associated with this set is 140,146 file July 19, 1944 and issued Jan. 30, 1945 for the female design.
1 in stock
• SKU: NO-BC-2022-01-17 09.34.52-40-vjc-a-2
• Designer or Maker: Alfred Benjamin Shawl.
• Mark: Norma (script) Pat. Pend., sterling
• Style: Figural pin
• Circa Date: 1940s
• Condition: Great. Show significant tarnish and wear to gold plating. There is some darkening on on of the blue faceted rhinestones on the female figural face. We've notice that the stones set in Norma pieces often appear slightly on the smaller size for the opening.
• Age Group: Adult
• Color: Rose gold, blue
• Material: Sterling, glass
• Size or Measurement: Both Approx. 2 1/4″ t.l. x 15/16″ w.
• Type: Figural motif, 1940s jewelry, 1940s brooches, Sterling Silver brooch, female dancer pins, Sterling silver pin set, Norma jewelry, Norma sterling pin, Sterling silver pin set, 1940s figural jewelry