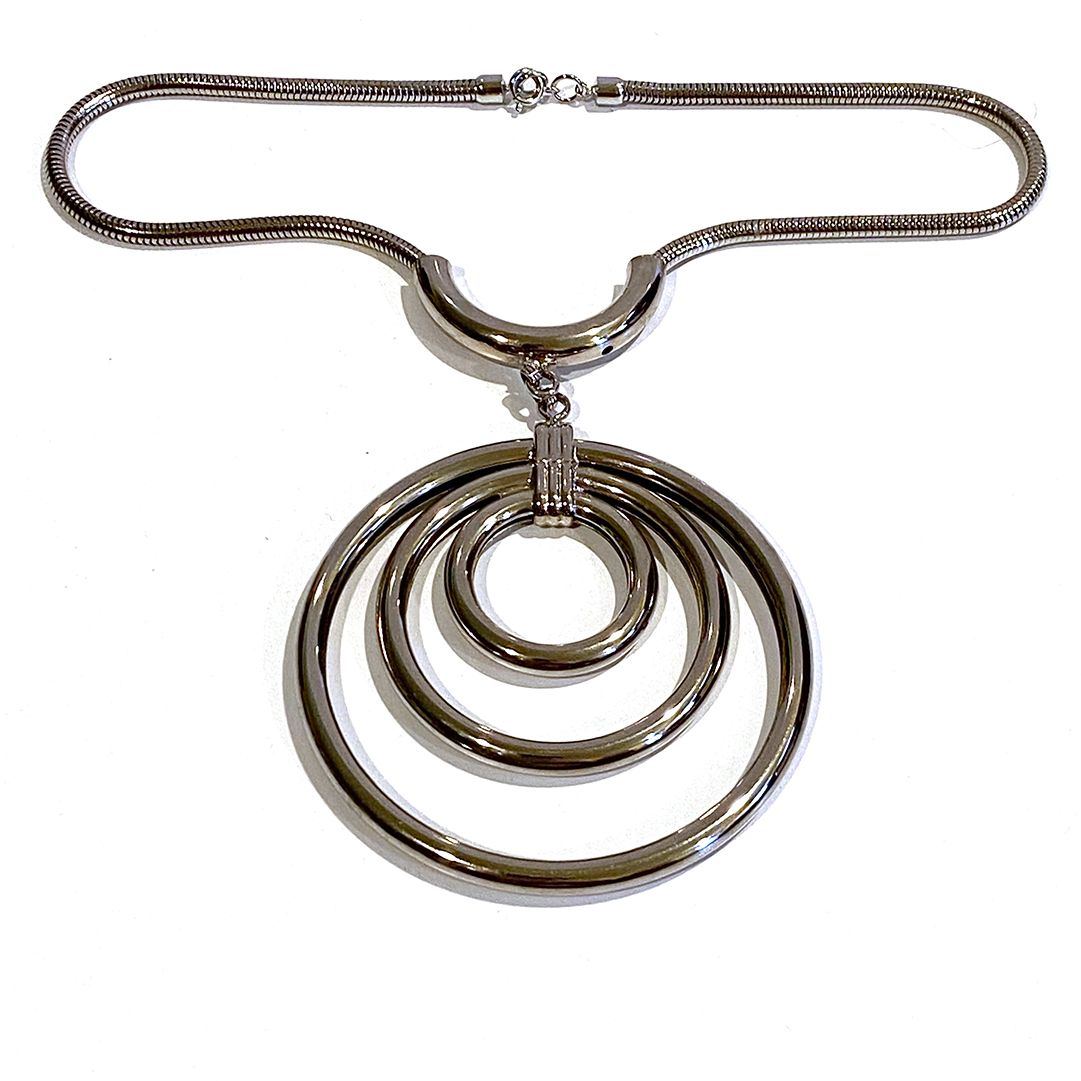 Large Silver Tone Vintage 1970s Pendant Necklace with Concentric Circles
July 5, 2021
Vintage Faux Damascene Toledoware Fish PIn on Original Card Made in Spain
July 5, 2021
Vintage 1970s White Enamel Double Chain Milkglass Pendant Necklace plus Free earrings
$29.00
Mark and I had the opportunity to purchase some wonderful salesman samples of c. 1970s vintage white enamel and gold-tone pendant necklaces. Some, like this one have wonderful open metalwork or filigree findings and plaques. These pieces are perfect for summertime, a summer wedding or for what is known as cruise jewelry.
The set consists of one necklace and a pair of earrings. This necklace features a double white enamel chain design with a single large oval pendant. The pendant consists of a oval cabochon encased by dog-tooth prongs, twisted wire and open metalwork surmounted by a heart-shaped finding similar to Juliana pieces made by Delizza & Elster.
1 in stock
SKU: US-NE-ER-2016-05-09 10.16.39-70s-vjc-a-6
Designer or Maker: Unknown
Condition: Excellent. In images the earrings do show a crack. Earrings are giving away free with purchase of the necklace.
Circa Date: 1970s,' 70s
Age Group: Adult
Color: Gold tone, Goldplated, White
Material: Brass, White Enamel
Size: Necklace measures approx 28″ tl for the longest of the chains. Pendant measures 2 1/4″ l x 1 1/8w. Box spring closure.